Insurance work
At Splashofcolour Painter & Decorators Ltd, we understand that unexpected events can disrupt your property. We provide complete insurance work services in Glasgow to help you quickly and expertly restore your space to its previous splendour. With our expertise, experience, and commitment to excellence, we stand by your side through every step of the insurance claim process.
Your Trusted Partner in Times of Need
When accidents or emergencies occur, you need a reliable partner who can quickly assess the situation, provide accurate estimates, and carry out necessary repairs or renovations. From minor accidents to more serious incidents, our insurance work services cover a wide range of situations, guaranteeing that your property is quickly restored to its original condition.
Comprehensive Solutions, Seamless Process
At Splashofcolour Painter & Decorators Ltd, we take great delight in offering thorough insurance work solutions that reduce stress:
1. Quick Reaction: We are aware of the urgency that the insurance business requires. Our crew is prepared to respond quickly, evaluate the damage, and provide aid right away.
2. Detailed Assessments: Our experienced professionals conduct thorough assessments to provide accurate cost estimates for repairs or renovations. To provide a simple and transparent process, we collaborate closely with your insurance provider.
3. Skilled Execution: With decades of experience, our skilled craftsmen undertake repairs and renovations with precision and care. We produce flawless results whether we're repairing a broken wall or repainting after water damage.
4. Smooth Coordination: Working with insurance providers can be difficult. In order to streamline the process and guarantee that your claim is processed quickly, our team communicates with insurers on your behalf.
5. Quality Guarantee: We take pride in the work we do for insurance companies. In order to repair your property to the highest possible standards, we only employ the best tools and methods.
6. Family Values: As a family-run company, we recognise the value of trust and sympathy in trying circumstances. We care for your home as if it were our own, giving you individualised service and consideration.
Your Assurance of Quality: A Which? Reliable Trader
Splashofcolour Painter & Decorators Ltd is proud to be recognised as a Which? Trusted Trader—a testament to our unwavering commitment to integrity, transparency, and customer satisfaction. When you choose us for insurance work, you're choosing a partner you can rely on, endorsed by discerning homeowners like yourself.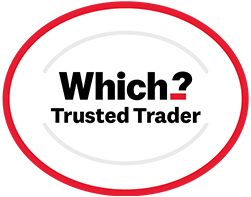 Get in touch
Trust the specialists at Splashofcolour Painter & Decorators Ltd to restore and rejuvenate when unplanned incidents disturb your property. To discuss your insurance work requirements, contact us right away. With expertise, sensitivity, and the commitment that sets us distinct, our staff is prepared to help you.