Exterior window painting in Glasgow
Are your property's windows showing signs of wear and tear due to the unforgiving elements? Splashofcolour Painter & Decorators Ltd is your go-to company in Glasgow for superior exterior window painting. Our professional treatments not only give your windows new life, but they also offer crucial protection, saving you the inconvenience and cost of untimely replacements.
Preservation Through Transformation: Unveiling the Benefits
We at Splashofcolour Painter & Decorators Ltd appreciate the value of windows that are maintained and last the test of time. Beyond aesthetics, our external window painting services offer a number of advantages that protect your investment:
1. Weather Protection: Although Scotland's weather can be severe, our outside window painting protects your windows from rain, wind, and UV radiation. Your windows will last longer thanks to this shield, saving you money on needless replacements.
2. Enhanced Curb Appeal: Painting your property recently can do wonders for its curb appeal. Weathered windows are methodically transformed into eye-catching focus pieces by our experienced painters, increasing the value of your home and stunning onlookers.
3. Economical Approach: Replacing windows can be very expensive. We provide a cost-effective solution with outstanding results with our external window painting. By updating your windows, you may reduce waste and save money while helping the environment.
4. Customised Solutions: We handle every property as though it were unique. In order to ensure that the finished product effortlessly blends with the overall aesthetics of your property, our skilled staff offers personalised solutions that are tailored to your taste and preferences.
5. Professional Experience: Thanks to their years of experience, our knowledgeable painters have the knowledge required to complete faultless exterior window painting. We utilise premium paints and methods that ensure sturdiness and enduring beauty.
Your Trust, Our Priority: A Family Business Legacy
Splashofcolour Painter & Decorators Ltd has been associated with quality and commitment for many years. As a family-run company, we take pride in our dedication to excellence and give every project the care and focus it needs. Every brushstroke we use reflects our enthusiasm for improving properties, making us Glasgow's top choice for exterior window painting.
Which? Trusted Traders
At Splashofcolour Painter & Decorators Ltd, we place a high value on your trust and satisfaction. We are thrilled to be designated as a Which? Trusted Trader, which is a reflection of our open and client-focused business practices. We are committed to establishing long-lasting relationships with our customers that are based on transparency, reasonable pricing, and superior service.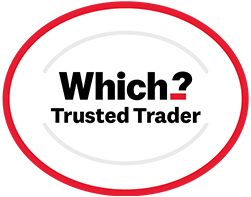 Experience the Transformation: Get in Touch Today
Are you prepared to increase the appeal of your home while defending your windows from the weather? To arrange a consultation, get in touch with Splashofcolour Painter & Decorators Ltd right now. Our professionals will inspect your windows, go through your demands, and offer a solution that fits both your needs and your budget. Don't let your home's attractiveness be diminished by dingy windows. By using our external window painting services, you can protect your investment and add a timeless touch of beauty.